IPC-Computer battery compatible to HP HSTNN-1B80 with 39Wh
In stock.
Until 2pm, shipping today.
Also Express shipping possible.
Installation in our repair shop
Substitute part numbers:
HSTNN-IB8O, HT03XL, L11421-545, L11119-856, L11421-1C1, HT03, HSTNN-DB9D, HSTNN-IB80, HSTNN-DB8R, HSTNN-DB8S, HSTNN-LB8M, HT03041XL, L11421-2C1, L11119-857, L11421-1C2, L11421-271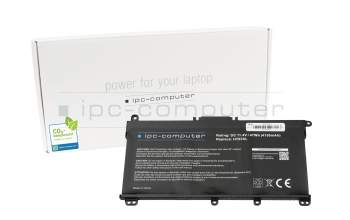 IPC-Computer battery compatible to HP HT03 with 47.31Wh
Product Info
Manufacturer

IPC-Computer

Item Number

HSTNN-1B80

Sub-Partnumbers
Common data
Condition

New

Manufacturer

Replacement product from IPC-Computer

Color

black
Technical Data
Battery type

intern

Battery technology

Li-Polymer

Capacity

3400 mAh / 39 Wh

Output (volt)

11.4 Volt

Number of cells

3 Cells
Battery Quality
Pros from IPC-Computer batteries
"IPC-Computer" notebook batteries are highest quality replacement batteries.
All IPC-Computer-Batteries are built with high quality cells. We produce these batteries in one of the largest and most modern factory in China. In these factories, everything from main-board design to case construction up to producing the highest quality products is done from beginning to end.
The very low failure rate of under 1% with these replacement batteries, gave us the security to label them with our "IPC-Computer" brand.
You buy the highest quality for the best possible price – guaranteed
The original battery from the laptop manufacturer is no longer available – no problem!
This IPC-Ccomputer brand battery is in no way inferior to the original battery in terms of quality and performance. On the contrary – often warranty and battery life are better than the original battery.
Category
Category

Batteries

Usage

Laptop
Excerpt of suitable models for P/N HSTNN-1B80
You've found this article over a part number. We'll check if it's the correct sparepart for your machine. To do this, please insert the manufacturer and the name of the model in the order comment.
Videos & Contributions
Determine the battery life of the notebook - this is how it works!
Many potential laptop buyers ask themselves this question before buying a new device. Unfortunately, the manufacturers often give no or only very vague information about their products
Learn more >
Original notebook battery vs. IPC computer quality
The IPC computer compared to an original. Shown here on a Toshiba PA3817U-1BAS
Learn more >
How can I recharge my notebook battery to 100%?
Whether old or new, often used or dust catchers, notebook batteries are prone to defects. It is therefore important to take various measures to maximize capacity and service life.
Learn more >
Important and useful informations about laptop Batteries
Frequently asked questions about Batteries
All questions about Batteries
---
Accessories, suitable alternative products and recommendations
IPC-Computer SCREW2 Screwdriver and und Opener Set - 80 Pieces