0A001-01103500 original Asus AC-adapter 45 Watt

In stock.
Until 2pm, shipping today.
Also Express shipping possible.
Substitute part numbers:
0A001-01103100, AD2108020, AD210802009, 0A001-01105100, AD10280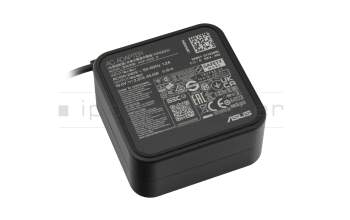 0A001-01103400 original Asus AC-adapter 45 Watt
Product Info
Manufacturer

Asus

Item Number

0A001-01103500

Sub-Partnumbers
Common data
Condition

New

Intended use

Laptops

Color

black

Delivery includes

incl. wallplug ()
Technical Data
Tension (volt)

19 Volt

Amperage (ampere)

2.37 Ampere

Output (watt)

45 Watt

Input (volt)

100-240V / 50-60Hz

Energy efficiency

VI
Laptop Plug
Connector type / shape

round / 90° angeld

Connector length (mm)

10.0 mm

Connector diameter outer / inner

5.0 mm / 2.9 mm

Connector with pin

Yes

Length of the connector cable (m) (ca.)

2.00 m
Weight & Meassurements
Length / Width / Hight

54 mm / 28 mm / 54 mm
More Information
Overload-, short-circuit- and overheat-protected

yes

Seal of approval

CE
EAC
Singapore Safety Mark
Technical Inspection Association (TÜV)
UL Listed
Ukraine Safety
Category
Category

AC-Adaptor

Usage

Laptop
Excerpt of suitable models for P/N 0A001-01103500
You've found this article over a part number. We'll check if it's the correct sparepart for your machine. To do this, please insert the manufacturer and the name of the model in the order comment.
Videos & Contributions
Recognize defective notebook power supply - purchase advice
Notebook power supplies are essential for most technical aids in the office and at home. - With these "step-by-step" instructions we help to prevent bad purchases.
Learn more >
Important and useful informations about laptop AC adapters
Frequently asked questions about AC adapters
All questions about AC adapters